My first stop in Peru was Máncora, which is a surfing / beach party town in the North. I'd heard about it from lots of people in my hostel in Quito and decided to check it out for myself. While there, I spent most of my time with this group of Argentinians I'd met at my hostel (seen here playing an epic game of gigantic Jenga):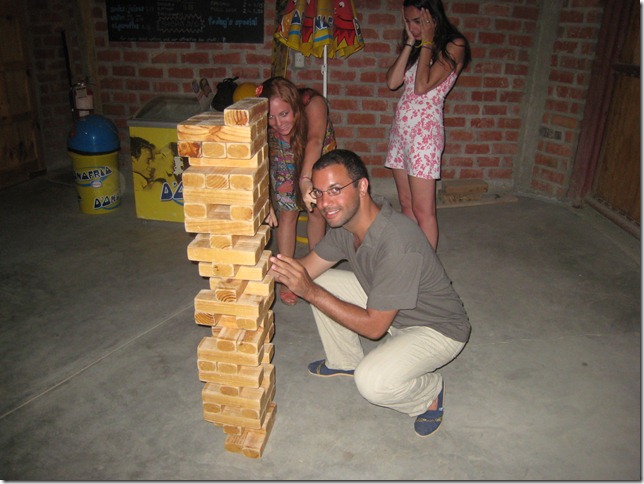 On my first night in Máncora, I was having dinner with Juan on the beach and we saw a really hot girl strip down to a bikini in front of us and I turned to Juan and said, "Daaaaamn!" He looked confused so I explained, "In America, when you see a hot girl you can say to your friend, 'Daaaamn!'" Juan beamed and was immediately on board. He looked toward the girl and said, "DAN!" I corrected, "No, no. 'Daaaamn.'" He seemed to get it and I figured my important cultural exchange was completed.
The next day, while hanging out with Juan, Sole, and Augústina, we were walking around and spotted another hot beach girl and Juan turns to me and asks eagerly, "Daaaamn?" I nodded approvingly and Juan explained the "damn" system to the girls. Later I told Sole I thought a girl was attractive and she said, "You should go to her and say, 'I want to kiss you. You are damn!'" I gave her a quick refresher on how 'damn' is used, but the next girl we saw, both Sole and Augústina said, "Oooooh! She is a daaaaamn!"
By my last day in Máncora, all the Argentinians were seeing hot girls and pointing at them excitedly to say, "Oooooh, damp!" Eh, close enough.